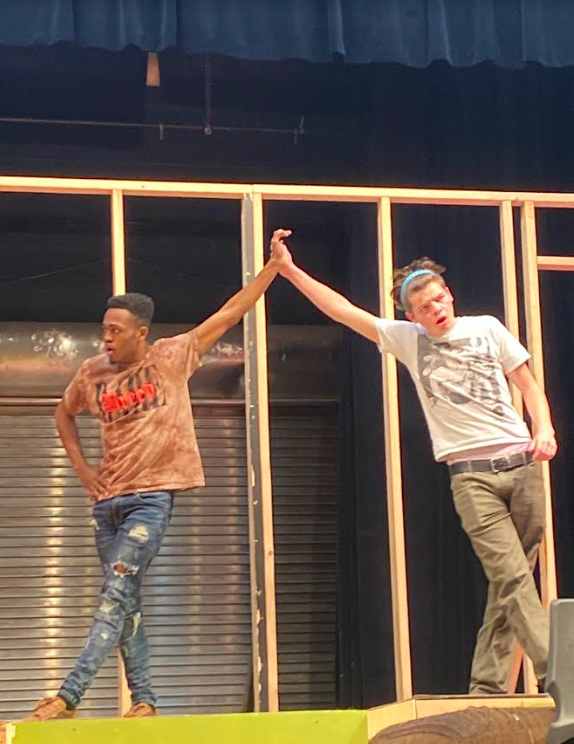 The Raymore-Peculiar High School Theatre Department is pleased to announce its upcoming production of the comedy "Lend Me A Tenor." Performances of the show will be in the Ray-Pec High School Theatre at 7:30 p.m. Feb. 8, 9, 10, and 11, and at 1:30 p.m. Feb. 12. The performances on Feb. 9 and Feb. 12 will be our "Newcomer Cast" performances.
Tickets may be reserved by calling the box office line, 892-3999 extension 2400. Tickets are $7 for adults and $6 for students.
"Lend Me A Tenor" is the hit farce comedy written by American playwright Ken Ludwig. The play centers on the fictitious "Great Italian Tenor" Tito Merelli coming to Cleveland in 1934 to perform a production of Pagliacci with the Cleveland Opera company. Assistant to the general manager Max is assigned to shepherd the mercurial Merrelli through his time in Cleveland. When Tito's personal life takes a complicated turn, things begin to spiral out of Max's control, and hilarity ensues. For more than 30 years, "Lend Me A Tenor" has delighted audiences.
The "Experienced Cast" includes Tre Hill as Max, Mia Mikulikz as Maggie, Nigel Norvell as Saunders, Andrew Burton as Tito Merelli, Brooklyn Burk as Maria, Sav Jordan as Diana, Sarah Freidline as Julia, and Corbin Williams as the Bellhop. The "Newcomer Cast" features Eli Showen as Max, Vanessa Diaz as Maggie, Ian Haneberg as Saunders, Bing Van Son as Tito Merelli, Jocelyn Smith as Maria, Amy Robinson as Diana, Aurora Lautzenhiser as Julia and Landon Whitten as the Bellhop.
Working behind the scenes are Teachers Dane Schnake and Adam Segura as the directors, and Teacher Todd Schnake, Retired Teacher Pam Schnake, and Patrons Michael Connelly and Kay Connelly as production assistants.
The lighting designer is Jillian Griffin. The assistant directors are Avery Monnig, Lilly Seward, Irelynn Sloan, and Carter Younger. The stage managers are Owen Phillips and Katrina Tilawen . The sound designer is Aisha Yanez-Corea. Props are overseen by Abbie Anderson, Hailey Feagins and Alex Gawron. The costume, hair and make-up crew is headed up by Kennedy Varner and Irelynn Sloan.