Congratulations to the 2023 Volunteer of the Year Award winner, Kristi Schumacher!
Schumacher, center, is pictured with Christi Feagins, Raymore-Peculiar Council of PTA Past President, and Dr. Mike Slagle, Superintendent of Raymore-Peculiar schools.
Schumacher received nominations this year from nine different people. She was nominated for the volunteer work she does with #youmatterrp, Sources of Strength, the Raymore-Peculiar Public School Foundation, and as a volunteer at school events in the district. Schumacher's contributions are numerous, have a huge impact on many students across the district, and she pours her heart into everything she does to ensure children in our community feel heard, loved and supported.
There were over 70 nominations for the VoTY award this year, with 36 very deserving individuals being nominated. It was hard to narrow the field down to 13 finalists, who were all recognized at a reception on Tuesday, April 25.
Thank you to all the individuals who nominated outstanding volunteers in our district, to the 36 nominees for all the amazing things they do, all of the other volunteers in our district who spend countless hours working but weren't nominated, and to Christi Feagins and Nicole Cline for hosting the VoTY reception.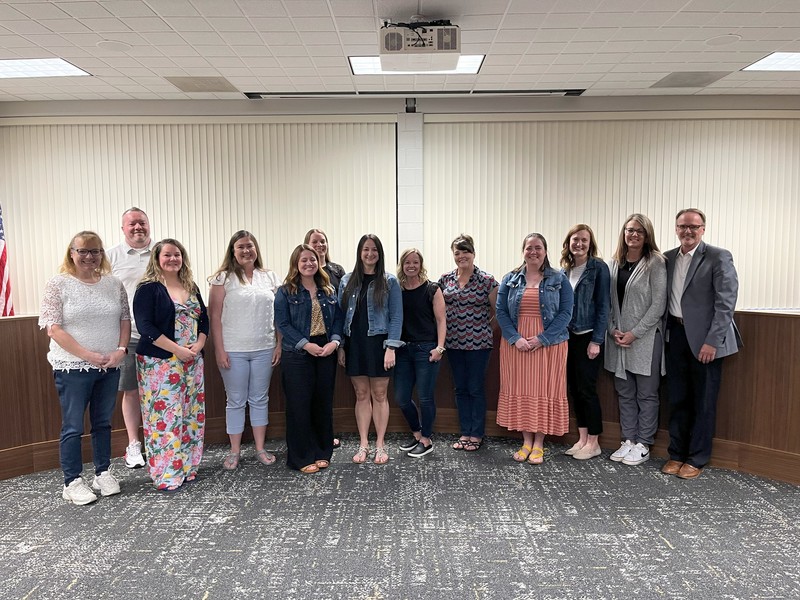 The finalists for the 2023 Volunteer of the Year award are pictured above with Superintendent Dr. Mike Slagle, at right. From left: Amy Kaye, Jeremiah "Miah" Johnson, Lisa McGan, Michelle Houston, Terra Stotler, Debbie Kansteiner, LaTisha Spiller, Rachel Seura, Alicia Hiles, Hanna Samuelson, Ashley Crowe and the 2023 winner, Kristi Schumacher. (Renee Stambaugh was not able to attend.)