At the Taste of Ray-Pec event on April 22, the Raymore-Peculiar Public School Foundation presented three Partners in Education awards.
Each year, the Foundation selects individuals, organizations, or businesses that have distinguished themselves for service to the school district, the Foundation, or the community at large.
The 2023 recipients are:
JE Dunn Construction
Matt Davidson
Jackie Boursheski and Charmel Kapoor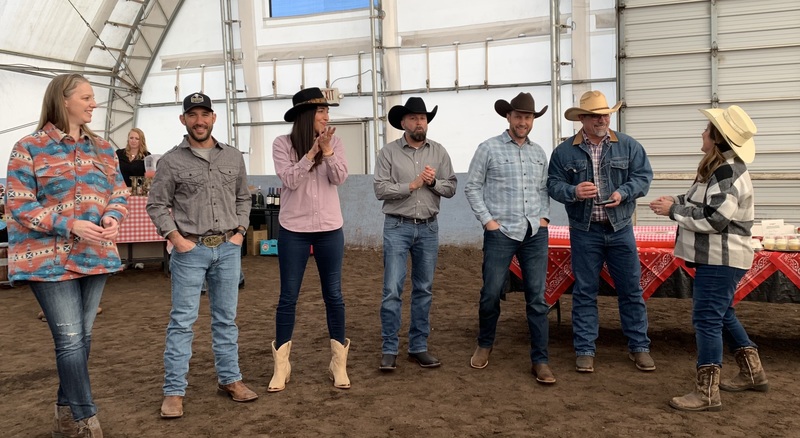 Jodie Huston, Executive Director of the Ray-Pec Public School Foundation, at right, thanks representatives from JE Dunn Construction as she presents them with the Partners in Education Award. From left: Cherie Jacobs, David Kille, Kelly Brucher, Lee Moore, Jeremy Baum, and Jeremy Catlett.
JE Dunn
Accepting the award on behalf of JE Dunn were Jeremy Baum, Lee Moore, Kelly Brucher, Jeremy Catlett, Cherie Jacobs, and David Kille. Lee Moore is a proud Ray-Pec graduate, and Jeremy Catlett and David Kelly are both parents of current Ray-Pec students.
Founded in 1924, JE Dunn is the 13th largest domestic general building contractor in the United States with offices in 26 locations and hundreds of project sites across the country.
JE Dunn is currently building the Ninth Grade Center, set to open in August, and the new Performing Arts Center, set to open next spring. JE Dunn was also the construction manager for the LEAD Center construction and renovation.
In addition to this working relationship with the District, JE Dunn has become a partner with the Foundation. This year, JE Dunn agreed to match up to $10,000 what was raised during the Fund-A-Need effort at the Taste of Ray-Pec event.
Giving back to the community and serving others has been part of the JE Dunn corporate culture since its founding. The company and its employees invest time, talent, and resources to charitable organizations in the area of community development, education, health and well-being, and social impact.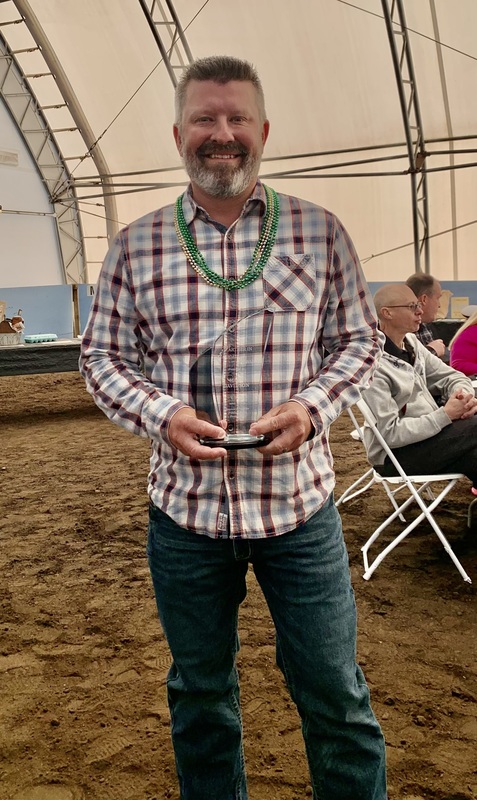 Matt Davidson has a State Farm Insurance agency in Raymore. He and his wife, Crystal, live in Raymore with their three children who attend Eagle Glen Elementary School.

Matt Davidson
Matt Davidson is a continuous supporter of the Ray-Pec Public School Foundation. Whenever asked, he responds with a way to help with time, talent, connections, or resources.
Davidson grew up in Columbia and attended the University of Missouri, where he studied business.
He moved to Raymore in 2009 to open his State Farm Insurance office.
Upon moving to the community, he became a member of the Raymore Chamber of Commerce. He has served on the Chamber's Board and the Golf Committee. In 2021, he was honored as the Chamber's Person of the Year to recognize him for all that he does to support the city.
Davidson has been a Rotarian since 2010, and was president of the Belton-Raymore Rotary Club in the 2013-2014 club year. He has also served on the Rotary board and as a co-chair for the club's Golf Tournament.
He has a passion for youth sports and wants to pay it forward for all the years other businesses supported his teams as he was growing up. Matt Davidson State Farm sponsors several baseball and softball teams each year through Raymore Parks and Rec.
Davidson serves on the Citizen Advisory Committee for the Ray-Pec School District, and has been a member of citizen committees to encourage passage of school district ballot issues. Most recently, he helped encourage passage of Proposition RP-1 in April.
He is a regular contributor to the Caring About Nutrition program, Stuff the Bus, Golf Tournament, Teacher/Staff Employee of the Year Celebration - just to name a few!
He and his wife, Crystal, live in Raymore with their three children who all attend Eagle Glen Elementary School. He enjoys helping coach his sons' sports teams and cheering for his daughter's team.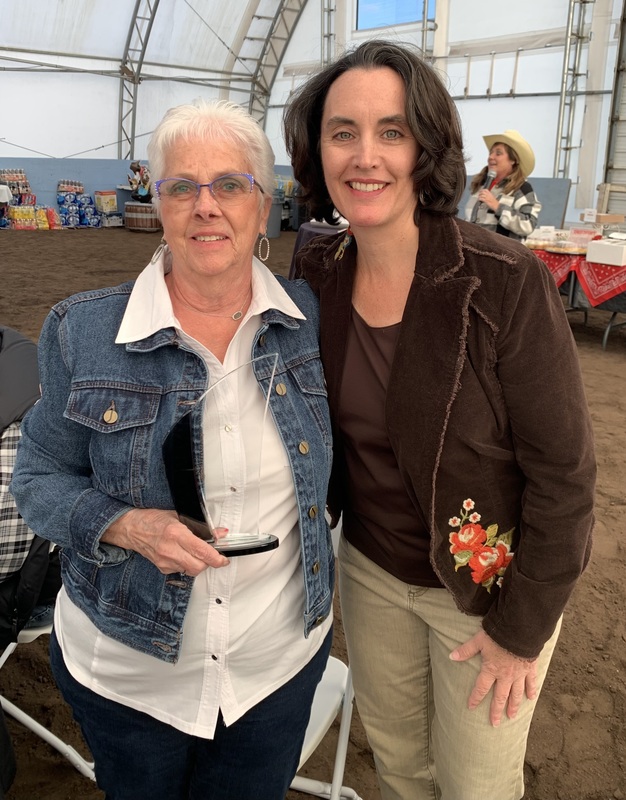 Foundation Board President Allison Bruflat, at right, thanks Jackie Boursheski for her longtime support of the CAN Program. Charmel Kapoor, who was also honored, could not attend.

Jackie Boursheski and Charmel Kapoor
The Foundation honored Jackie Boursheski and Charmel Kapoor for their work supporting the Caring About Nutrition program. In 2012, Raymore Elementary PTA members came together to create weekly bags of food to assist 10 students. In the fall of 2013,, with the help of the Foundation, volunteers prepared for distribution to other elementary schools in the District.
Today, the CAN program serves every school in the district, with more than 200 students being fed every weekend. A central pantry is located at the Academy building, and three smaller pantries serve the high school and middle schools. Bags of child-friendly food items are sent home each week with students in the elementary schools.
With no paid staff, the program relies completely on volunteers. Boursheski and Kapoor have been helping with CAN since its beginning.
Boursheski retired from GSA after 35 years and the timing was perfect for CAN. She's lived in the district for over 20 years and has had a daughter and grandsons attend our schools. She also shares her heart with other programs in the community and has volunteered for several years with the summer food program at Holy Spirit in Lee's Summit.
Kapoor was an active parent volunteer at Stonegate Elementary (and still is involved with her daughter at the high school), when she learned about CAN and immediately became indispensable.

Boursheski and Kapoor plan the menus, and help sort, log, and shelve the donations. They also help prepare the bags for each schools. They plan and supervise shopping trips when items must be purchased.