Twelve Raymore-Peculiar High School students attended and competed at the 75th Missouri DECA State Career Development Conference March 12 to 14 at Crown Center in Kansas City. Students competed in the areas of marketing, management, finance, and entrepreneurship through a series of testing, role plays, written projects, and presentations.
Students who competed were: Mia Abnos, Jaxson Anderson, Tyler Banks, Ember Davis, Jordan Eagleson, Olivia Ham, Tucker Huffman, Ziarre Majeed, Tanner Miller, Rylee Stewart, Noah Tuttle, and Carson Wilson.
DECA prepares emerging leaders and entrepreneurs for careers in marketing, finance, hospitality and management in high schools and colleges around the globe.
Pictured in the group photo, from left to right: Jaxson Anderson, Rylee Stewart, Olivia Ham, Noah Tuttle, Jordan Eagleson, Ziarre Majeed, Mia Abnos, Carson Wilson, Ember Davis, Tucker Huffman, Tanner Miller, and Tyler Banks.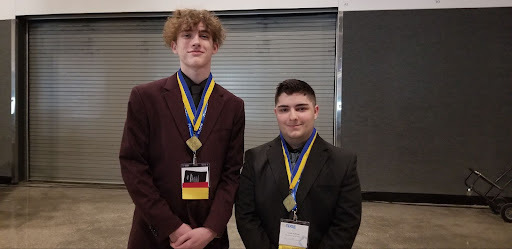 Tucker Huffman and Noah Tuttle placed in the top 10 with their Community Giving Project.